May 2020 – ATO Shipping Newsletter 
This article will outline all the developments over May 2020
COVID-19 has impacted business globally. We here at Across the Ocean Shipping are grateful to be providing our clients, continual support in getting your shipments to where they need to be. On the positive side it is good to see that the World is "flattening the Curve" and economies are slowly beginning to open up.
In our last Newsletter we provided extensive information on the requirements to import hand sanitizers and face masks into Australia with the relevant regulatory bodies, please visit our website to view this. www.atoshipping.com
This month we provide you with information from the Department of Agriculture, Water and the Environment for imports about our Food security and agriculture and COVID-19.
Also, we give you information on a new Australian Government initiative called the International Freight Assistance Mechanism (IFAM) to assist with Australian agriculture and fisheries exporters.
Remember, as an "essential service" Across the Ocean Shipping will be here to keep your supply chain moving 24/7.
Call us or email today, we will be delighted to hear from you!
All the best
The team at Across the Ocean Shipping.


For Australia to come through the COVID-19 crisis and recover, it needs its businesses to do the same. By pulling together and backing each other, we will get through this. Australia is home to clever, innovative and resilient people and businesses. We have the know-how, the resources and the will to collectively stare down these challenges. We can be confident we will overcome this.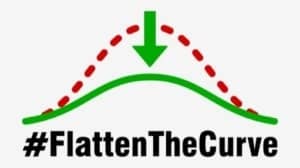 The World is starting to beat this invisible enemy and the graph below shows nearly all Countries are now on the downside. Australian States are now lifting Stage 3 Restrictions with WA and QLD being the first States with other State leaders to have discussions of lifting restrictions in the early weeks of May.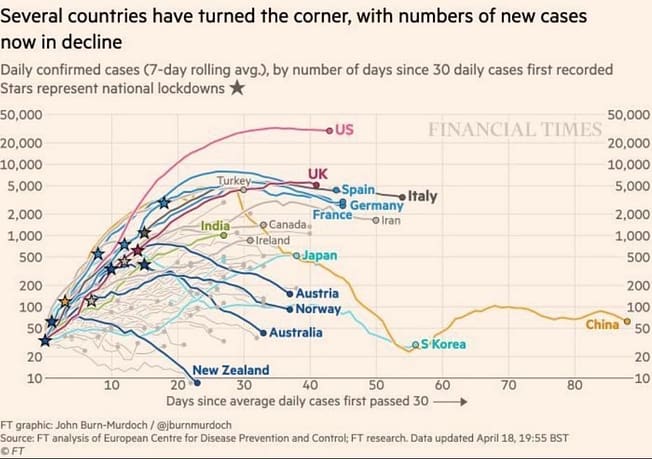 Food security and agriculture and COVID-19
Our agricultural sectors play an important role in Australia's food security. Feeding our nation is an essential service. We're making sure there's food on the table for all Australians.
Products will continue to be delivered to supermarkets. Do not hoard food. Stay calm and know Australian agriculture will be there for you.
Please read more at the following link:
https://www.agriculture.gov.au/coronavirus/food-agriculture

NICNAS | Stakeholder Update – April 2020
The Australian Industrial Chemicals Introduction Scheme (AICIS) will replace NICNAS on 1 July 2020 as the new national regulator of the importation and manufacture of industrial chemicals in Australia.
Anyone who imports or manufactures (introduce) industrial chemicals — or products that release industrial chemicals — into Australia for commercial purposes must:
• register their business with AICIS and pay a fee
• categorise each chemical importation or manufacture (introduction) into 1 of 5 categories
Refer to below link to NICNAS Stakeholder Update – April 2020 for latest updates on the Australian regulation of industrial chemicals manufacture and importation, which may be of interest to you and any clients that import industrial chemicals.
https://nicnasofficeofchemicalsafety.cmail20.com/t/ViewEmail/r/9B21FAAAC3F988CB2540EF23F30FEDED/4EA5254B48B8E464413002922EF4E9B7

Support for businesses impacted by Coronavirus
On 1 April, the Australian Government announced measures to help secure freight access for
Australian agriculture and fisheries exporters
.
The new $110 million
International Freight Assistance Mechanism
(IFAM) will assist Australia's agricultural and fisheries sector by helping them export their high-quality produce into key overseas markets, with return flights bringing back vital medical supplies, medicines and equipment.
Exporters wishing to access the mechanism can
or call the Department of Agriculture, Water and the Environment on (02) 6272 2444.
On 1 April, the Government also announced increased
funding for the Export Market Development Grant
(EMDG). Funding for the scheme will increase by $49.8 million in the 2019-20 financial year, allowing exporters and tourism businesses to get additional reimbursements for costs incurred in marketing their products and services around the world.
This supplements the additional $60 million already committed by the Government, and brings EMDG funding to its highest level in more than 20 years at $207.7 million for the 2019-20 financial year.
For details about the full range of programs the Australian Government has launched in support for Australian businesses go to business.gov.au
The Australian Transport and Infrastructure Council has also confirmed the high-priority it places on the freight and logistics sector.
The Ministers have requested Freight Victoria to continue maintaining communications with industry on actions to combat the COVID-19 outbreak and to provide an avenue to raise any issues of concern.
Imports and Exports
Click on the following link for all the latest updates from the Department of Home Affairs – ABF (Australian Border Force) with regard to Imports and Exports:
https://covid19.homeaffairs.gov.au/imports-and-exports


There's a lot of serious stuff going on around the world, and if you are like us you will be fed up of all the negative news at the moment. – The current global situation with COVID is certainly uncharted waters in our day and age. Working from home (WFH) has become the new "hipster" way of working. Certain industries have offered the WFH option previously but 'hashtag' social distancing…what does that even mean?!
I'm sure we've all had occasions where we have happily socially distanced ourselves from people and situations that we don't want to be in, but being locked down for weeks on-end and not being in the workplace environment is quite frankly weird for a lot of us!
Across the Ocean Shipping has never been shy to celebrate staff birthdays (any excuse for cake) or rejoice purely in the fact it's Friday. This has not changed during these times; except for the addition of hand sanitiser everywhere and #socialdistancing !!
This month it was our long standing all-rounder Ben Jackson's birthday. So what did we do…??? We all secretly turned up to the Melbourne office dressed as Ben! Messy hair, Flannel shirts, jeans rolled up and a cigarette roll up hanging outside the side of our mouths. Even WFH did not stop the fun with staff dressing up at home to celebrate Ben's birthday.
Fun Friday this month was Pyjama Day, a great opportunity to dig out the Aussie Ugg boots and dodgy nightwear. The team couldn't resist personalising their face masks and posing for social distanced photos!
We hope you enjoy the photos and at the very least it brings a smile to your faces.
Stay safe everyone!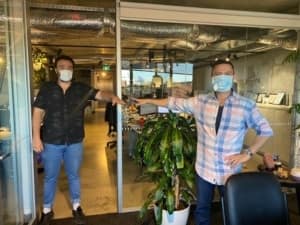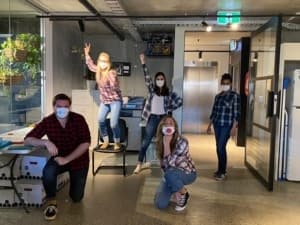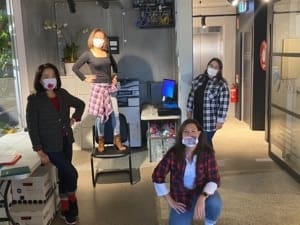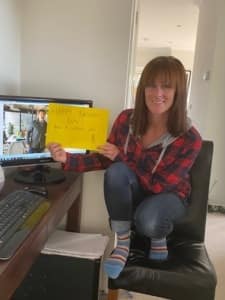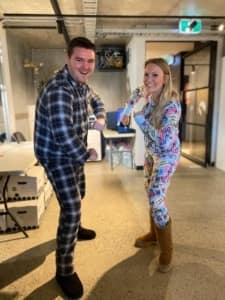 We hope the information contained in our monthly Newsletter keeps you informed of the latest news and affairs.
Please do not hesitate to contact our offices if you have any queries.
If you have any Customs or Quarantine specific matters, Donna will be happy to assist – her details as below.
Thank you
Donna Harford
Customs Brokerage Manager
Mobile: + 61 420 273 537
Tel: + 61 3 9427 0015
Email: donna@atoshipping.com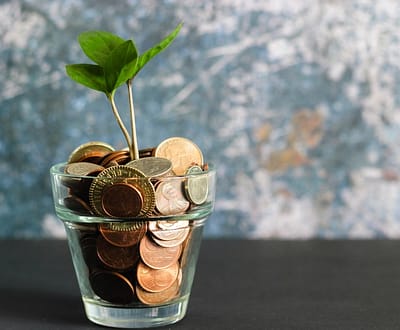 Fund-and-Reward Carbon Emissions Program A new Fund-and-Reward carbon emissions program is the…
[easy-share counters=1 counter_pos="inside" native="no" hide_total="yes" fullwidth="yes" fullwidth_fix="100"]